Holy shit you guys this season is already absolutely killing me because there is already TOO MUCH TO EDIT. I can't even. I can't. I started this the night of the premiere, it surprised me that it took so long but it was so delicate and I really didn't want to waste it or screw it up. I've wanted to do this version of this song forever, I'm trying to find my emails with Gemma about it but they were ages ago (
EDIT:
FOUND.
September 24, 2008
oh my god, it's enough to make me cry because whoever would have thought ♥). It was sort of an, "if they ever hook up, this video should happen" conversation, and now they're together and it's even more perfect than I could have envisioned for this.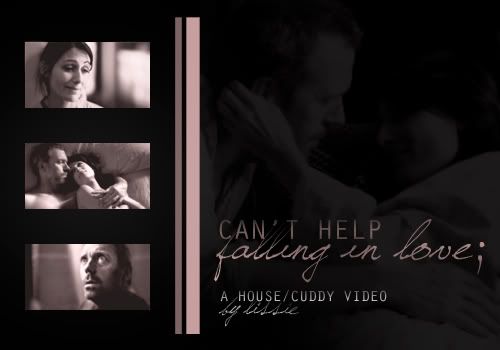 (click for youtube link)

DOWNLOAD
.MOV - 95MB

A House/Cuddy episodic video that aims to be a lyrical recap of "Help Me" & "Now What?", drawing parallels and communicating even the little moments that lead to up to their new, romantic relationship. Set to
Can't Help Falling In Love
by Ingrid Michaelson.
(
Collapse
)

♥ as always, I'd love your thoughts. ♥
THANK YOU FOR YOUR TIME!
♥ ♥ ♥
AND. IMPORTANT:
I have embedding turned on. I only ask that if you
do
embed this somewhere (like fanpop), you link me to it, just so I know and am able to check on it and see how it's doing. ♥ Feel free to do so, that's all I ask.
Like what you see?
+
WATCH
||
JOIN
alchemic_dreams
+
Subscribe to my channel
x